May 12, 2021
Reminder for Diet Orders in the EMR
The introduction of the Electronic Medical Record (EMR) to Western Health has brought many enhancements to the nutrition and menu ordering systems, but it is important that the correct processes are followed to ensure patient safety at every step.
On admission, all allergies, intolerances, and adverse reactions (including those to foods) are to be verified by Nursing/Midwifery and clinical staff. This information is entered into the EMR which will interface with CBORD (the electronic food and nutrition management system) via an allergy order to restrict food and fluids to patients with known allergies.
Nursing/Midwifery and clinical staff are then required to update diet orders in a timely manner to ensure this up-dated information is available to Food Services for timely provision of patient meals.
Diet orders in the EMR are the single source of truth.
These orders communicate directly with the menu management system and provide the most up to date information for clinicians and Food Services alike.
Using a different source of truth –such as paper forms- creates risks to patient safety, as the diet may have been downgraded or altered in another way, creating confusion over which diet order is the most up to date.
By ensuring everyone only fills out diet orders on the EMR we can ensure our patients are receiving the most appropriate meal and fluids.
The Monitoring and Performance (MaP) report conveniently displays this information for the whole ward.
Prior to the distribution of meals to patients, the Nurse/Midwife-in-Charge must cross check the meals delivered to the ward against the MaP report to ensure that there have been no changes to diet orders since the tray tickets were printed.
By ensuring everyone follows the same workflows when filling out diet orders and distributing meals we can streamline this important process and reduce risks to patient safety.
If you are unsure on any EMR diet order workflows please see this Quick Reference Guide: Clinical Care – Diet Order (wh.org.au)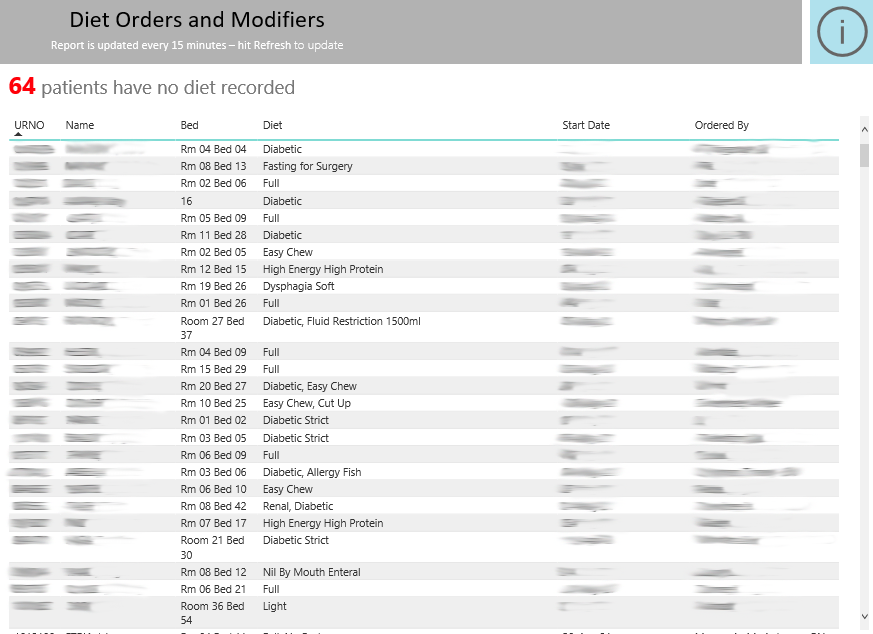 May 12, 2021
Reminder for Diet Orders in the EMR