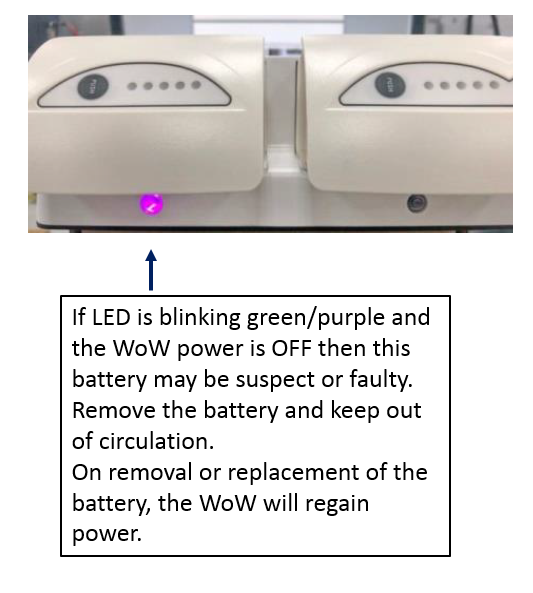 June 6, 2019
Changes to WoW battery light behaviour to identify a suspect battery
EMR team members, along with the supplier and manufacturer of our WoW batteries, have recently completed a firmware update to WoW batteries across all campuses so that power to a WoW will be cut off if a suspect/faulty battery is identified and the suspect/faulty battery will blink green/purple.  
The battery should be removed from circulation and kept by the NUM, MUM, Manager who will log a job with the Western Health Service Desk to arrange a replacement battery.
On removal/replacement of the battery, the WoW will regain power.  
The below table highlights when a suspect/faulty battery is present. 
Please log a job with the Western Health Service Desk to arrange a replacement battery: 
Urgent Requests
Contact: (03) 8345 6777
Non-Urgent Requests
Email:   servicedesk@wh.org.au
Portal:   http://servicedesk.wh.org.au
For further information please visit the WoWs and other devices page of this site
June 6, 2019
Changes to WoW battery light behaviour to identify a suspect battery